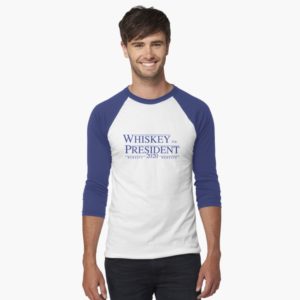 Our original Whiskey for President T-Shirt was debued for the 2016 election. We're ready for 2020 with our new Whiskey for President T-Shirt.  Support your candidate now
For those of you who are currently unhappy with all of the candidates, whether it's Hillary Clinton, Donald Trump, or even Gary Johnson, there is an alternative. Show your support and purchase a Whiskey for President T-Shirt.  Whether it's whiskey from America, Japan, India, Scotland, Ireland, or anywhere around the world, we can unite and show that whiskey has no borders!
Don't forget to post a pic Instagram with the hashtag #MDM4Whiskey and, as always, make sure you're following us!